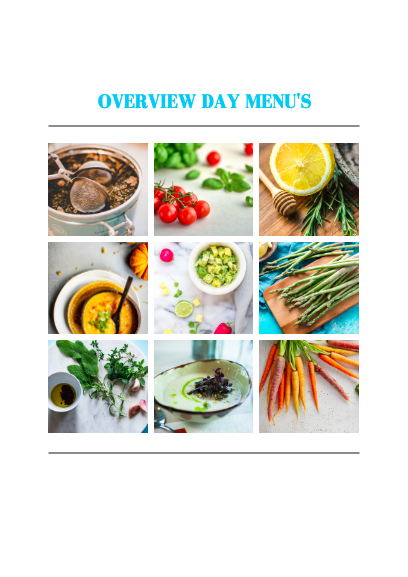 Overview week menu 
Scan alle dagmenu's een keer goed door en start met de dag of maaltijd die je het meeste aanspreekt.
Op de desbetreffende dag vind je in de opsomming de combinaties voor die dag. Alle onderdelen doen mee aan de combinatie, van de salade, tot de dressing, de kruiden en zaden. Laat dus niet zomaar ingrediënten of toppings weg. 
Als er een recept hoor bij de opgegeven maaltijd, dan herken je deze aan het [ * ] – teken dat je dan achter de desbetreffende een maaltijd vindt.
Als het een eenvoudig recept is, waarbij je alleen de ingrediënten hoeft samen te voegen, dan vind je geen recept. 
O: ontbijt 
S: snack 
L: lunch  
S: snack
D: diner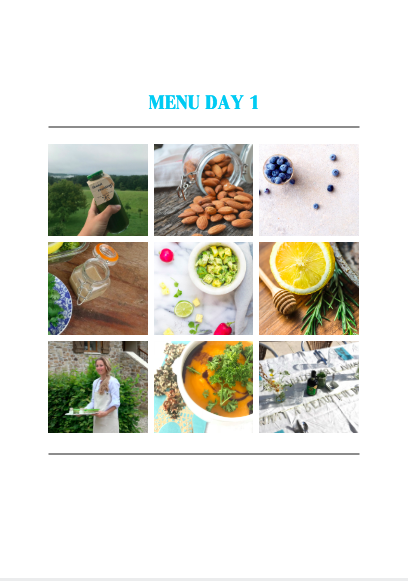 Day 1 
Breakfast: 
Avocado Green Smoothie* 
Snack:
½ Sliced banana + ½ cup coconut yogurt + pinch cinnamon
Lunch:
Broccoli – avocado salad + tahini dressing* + 1 tbsp. sesame topping
Snack:
1 Cup blueberry (frozen/fresh) + 20 soaked almonds* (overnight)
Diner:
Sweet potato – pumpkin soup 500ml* +1tsp. parsley and 1 tsp. pumpkin oil + seed cracker*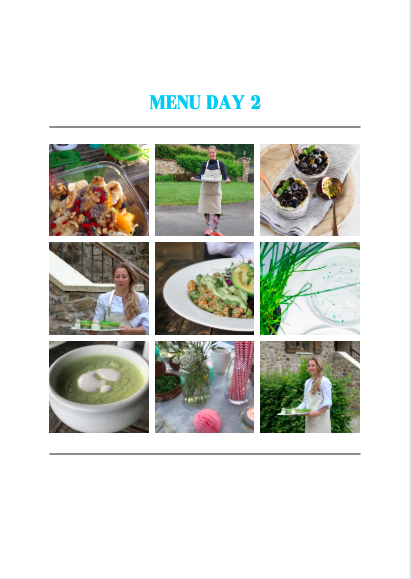 Day 2  
Breakfast:
Fruit salad* + 1 tbsp. goji berry + roasted walnuts (6x ½ walnuts crushed) 
Snack:
Chia seed pudding* + blueberries
Lunch:
Avocado – quinoa salad with protein ranch dressing*
Snack:
½ Avocado + pinch Himalaya salt, lemon juice and black pepper (optional)
Diner:
Edamame soup 450 ml* + fresh herbs + seed cracker*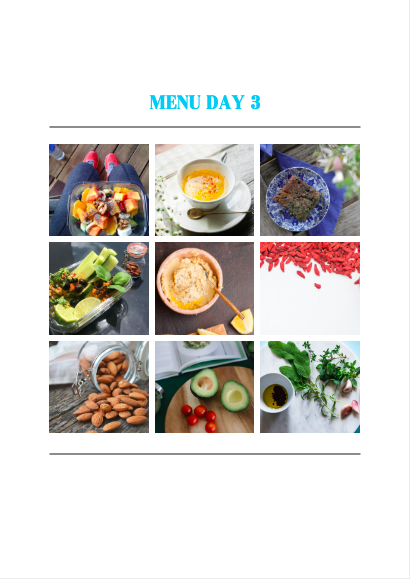 Day 3 
Breakfast: 
Fruit salad* + 1 tbsp. goji berry + roasted walnuts (6x ½ walnuts crushed)
Snack: 
Banana Bread* + Peppermint tea
Lunch:
Sliced ½ avocado + 1 cup mashed sweet potato + ¼ sliced cucumber + ½ cup hummus* + 5 black olives + greens
Snack:
15 almonds mix with 10 goji berries
Diner:
Tomato – avocado – sesame salad* with fresh Basil and tahini dressing* + seed cracker*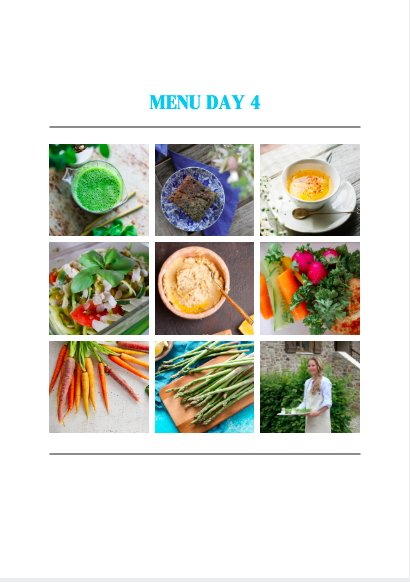 Day 4 
Breakfast: 
Happy Juice* + a mix of 2 finely cut dates + almonds + sesame + pumpkin seeds
Snack: 
Banana Bread* + Peppermint tea
Lunch: 
Zoodles* + peas + cherry tomatoes + fresh basil + silvered almonds 
Snack: 
Veggie sticks (carrots/cucumber/capsicum/radish) + hummus*
Diner: 
Carrot asparagus soup* + fresh parsley + seed cracker*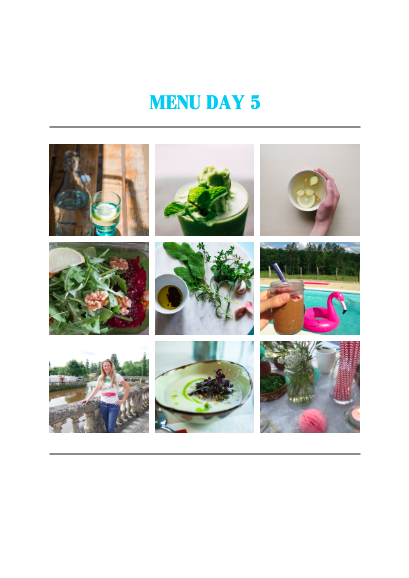 Day 5 
Breakfast:
Fresh Green Smoothie* 
Snack:
1 Orange cut in cubes mix with 6 walnut half's and a bit almond milk + 1tsp honey
Lunch:
Beetroot Salad* on rocket with walnuts and roasted pumpkin seeds and olive oil or vinaigrette*
Snack:
Avocado cacao mousse*
Diner: 
Soup of the diner menu of day 1 or 2 or choose to make a new soup: 
White Bean Soup* with fresh Parsley + seed cracker*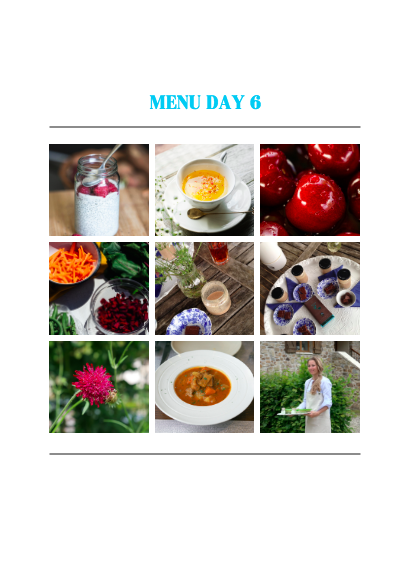 Day 6  
Breakfast:
Chia zaad pudding* with ½ cup mixed nuts + 1 tbsp. honey + fresh orange juice* 
Snack:
1 big apple + herbal tea
Lunch:
Big vegetable wok* with roasted mixed seeds and 2 tbsp pumpkin oil 
Snack:
20gr dark chocolate bar + 200ml warm almond milk cooked with a pinch cinnamon*
Diner:
Magic Soup* + 1 cup natural rice mixed + roasted sesame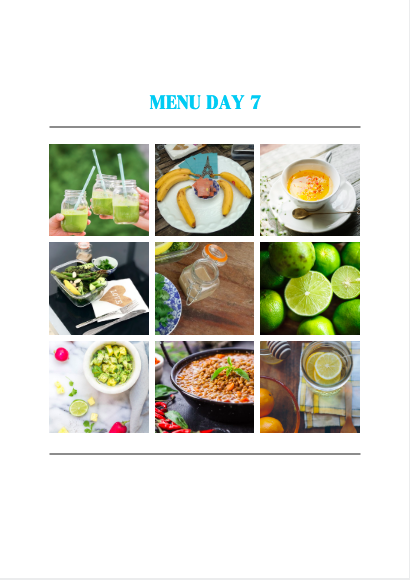 Day 7   
Breakfast:
Natural packed protein green smoothie* 
Snack:
1 Banana + Rooibos tea
Lunch:
Buddha Green Bowl* + 1 tbsp pumpkin seeds + 1 tsp chia seeds + fresh coriander + slice of lemon
Snack:
½ avocado topped with a pinch Himalaya salt, black pepper and lemon
Diner:
Lentil soup* 500ml with fresh parsley + 1 tsp apple vinegar